Understanding the Benefits of CBD Topicals
CBD (Cannabidiol) is a naturally occurring, non-intoxicating compound found in cannabis plants. CBD won't make you feel 'high' or intoxicated but it does have enormous healing potential for a variety of uses. It's one of the many potent cannabinoids found in hemp. Importantly, CBD is widely known to have many beneficial properties and is non-psychoactive, meaning it won't make you high
The popularity of CBD products has exploded over the past few years. It's estimated that the CBD market could exceed $20 billion in sales by 2024, which would make it one of the fastest-growing industries in the world. One of the major components of the expanding CBD market is the use of CBD topical products.
CBD topicals are products like creams or salves that are infused with CBD and applied directly to the skin. They deliver a range of benefits that other types of CBD products don't. If you're seeking relief from muscle and joint aches and pains or help with skin conditions, a CBD topical might be the best choice for you. The following are just some of the benefits of CBD topicals.
They work more quickly than orally ingested CBD products
The use of CBD topicals enables users to experience the benefits of CBD at a faster rate than ingestible products. Orally ingested CBD products can take up to an hour to take full effect because they need to pass through the digestive system before they're absorbed into the bloodstream and then distributed throughout the body.
Topicals, on the other hand, are applied directly onto the affected area and are absorbed quickly through the skin. It can take just minutes or even less for users to feel the beneficial effects of the applied CBD.
They allow you to target where you experience the effects
When using CBD topicals, you have more control over targeting where the CBD beneficial effects are felt. For example, evidence has shown that CBD may provide relief to aching muscles and joints. Topicals allow you to apply CBD directly to the area where you need to feel relief the most. CBD salve is excellent for targeting smaller more concentrated areas and CBD cream for more expansive areas of the skin.
When CBD is ingested, there's less control over targeting specific areas. Therefore, not only does it take somewhat longer to feel the benefits, there's less targeting of those benefits when using ingested CBD products.
CBD topicals are easy to use and CBD beginner-friendly
More and more consumers are purchasing CBD products for the first time. Ingested CBD products require dosages to be taken into account, which can make them more confusing for beginners. One of the many benefits of using CBD topicals is that they are easy to use and dosages are standardized, so simply apply the suggested amount to the desired area to experience the benefits.
The additional ingredients often provide further combined benefits
Most CBD topicals contain beneficial ingredients other than CBD. With much of the popularity of CBD products being credited to a desire to improve individual wellness, consumers will notice the presence of other beneficial ingredients often used in conjunction with CBD within topical products.
Essential oils are commonly found in CBD topicals, as well as ingredients like camphor, menthol, lavender, and eucalyptus. These added ingredients come with their own selection of benefits. For example, eucalyptus is well known to improve skin and hair health.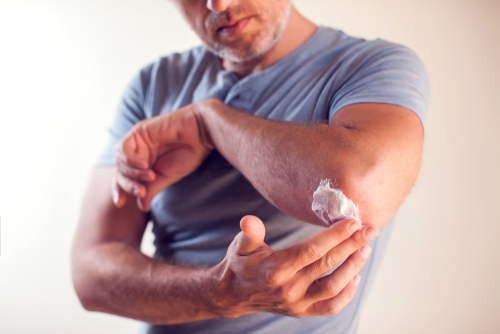 CBD Topicals vs. CBD Ingestible Products
Both topicals and edibles contain CBD, but that doesn't mean they work in the same way. Neither product is overly superior to another. They're simply aimed at CBD users with different needs. Whether you use topicals or ingestible products usually depends on your desired wellness needs. Many CBD users utilize both types of products to realize the benefits that each offers.
Using CBD topicals is better for focused treatments as they will work best via the skin's cannabinoid receptors. Ingestibles, on the other hand, are best for non-targeted, general wellness applications like anxiety and stress relief and sleep enhancement.
Overall, CBD topicals offer a more concentrated and quicker impact whereas ingestible CBD products are more beneficial for getting CBD into the bloodstream and benefiting the entire body and nervous system. As mentioned above, the ease of use and easy to understand dosages of CBD topicals make it a great product for CBD beginners as well as those with an existing CBD wellness regime.
Experience all the benefits of CBD topicals with our CBD Salve, formulated with our Premium Broad Spectrum CBD and combined with organic beeswax and aromatic essential lavender and eucalyptus oils, and our CBD Sports Cream, our Premium Broad Spectrum CBD combined with menthol and camphor. Don't wait any longer to get your muscles and joints the relief they need and give your skin a healthy boost.